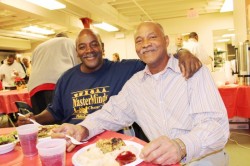 The Whosoever Gospel Mission is a Christian nonprofit organization whose purpose is to provide shelter, food, clothing, education, counseling, rehabilitation and other assistance to homeless and/or needy men (and hopefully one day also women and children) in the Philadelphia Metropolitan Area.  As the lighted sign on our rooftop proclaims each night, we seek to offer the love of Jesus and the hope of the Gospel in both word and deed to those who are hurting.  We operate our residential New Life Program for homeless men year-round, and we anticipate opening Hannah's Place, a residential facility for homeless or needy moms and their young children, in the future.  Click here to take a video tour of our New Life Program.
The Whosoever Gospel Mission is supported primarily through donor contributions, grants and revenue generated through our thrift store operations.  The Mission is governed by an interdenominational Board of Directors and offers its services without charge and regardless of race, ethnic origin, religion or age.
Our History
The Whosoever Gospel Mission and Rescue Home Association was opened in the Germantown section of Philadelphia in 1892 by William Raws, a recovered alcoholic, who dedicated his life to helping "the least, the last, and the lost."  With uninterrupted services for 116 years, the Mission has shared God's love with fallen and needy homeless men through the proclamation of the Gospel and by providing meals, lodging, clothing, counseling, training, education, work experience and other useful help and assistance.  Our long-term residential program for men is designed to help broken and hurting homeless men become productive, contributing citizens in both God's Kingdom and our society.
The Fire
On February 25, 2006, the Whosoever Gospel Mission was devastated by a catastrophic arson fire.  Our property was rendered useless with well over two million dollars in damages.  Though we had to suspend all residential services to the homeless as a result of the fire, we continued to offer other supports and services to the homeless and needy through our various ministries.
Our Re-Opening
On Monday, November 24, 2008, we reopened our residential facility and restarted our long term New Life Program for homeless men.  After 2 years and 9 months of demolition and rebuilding, we were once again able to provide the holistic drug and alcohol rehabilitation and job readiness training needed to help men overcome their addiction, achieve meaningful employment and enjoy life as productive, contributing members of society.
Our Future
In addition to reopening our much needed residential New Life Program for homeless men, we plan to open Hannah's Place, a brand new residential program in a separate facility for homeless women with young children.  We need your generous gifts to turn our vision into a reality!
Memberships and Affiliations
The Whosoever Gospel Mission is a member of Citygate Network and the Evangelical Council for Financial Accountability (ECFA).