"…whatever one sows, that will he also reap…let us not grow weary of doing good, for in due season we will reap, if we do not give up." Galatians 6:7-9
Arthur's Flowers
In late May, it took Arthur, a New Life Program graduate, two trips on the bus to bring us the plants he was donating to the Mission through the generosity of his boss at the Chestnut Hill Business Improvement District. If you wandered into the Mission's courtyard in June, you would have seen four containers full of these young, tender plants. Beautiful, but small. By August they had grown into huge, magnificent displays of life and color.
It took lots of water, nurture and time for the flowers to reach their full potential, but reach it they did! In a way, the flowers are a picture of Arthur's own life.
When Arthur came to the Mission in April of 2009, he was struggling. But he grew and blossomed as he began making good choices. He worked hard to overcome an addiction; he learned to forgive, even as he has been forgiven by the Lord. He patiently looked for work and ended up with a great job – the very one that gives him flowers to bring to the Mission each year!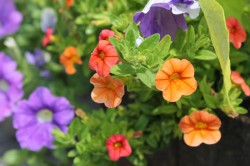 Five years later, Arthur continues to mature and blossom. His life is a blessing to all who cross his path. For Arthur, the Mission was the place God used to nurture him, the place where his roots were able to grow. Now, he's giving back – helping to create a nurturing and beautiful atmosphere for the men who are coming after him.
Arthur's flowers are a picture of what happens inside the Mission all year long – growth over time that leads to the flourishing of life.
Nurturing Growth
At the Whosoever Gospel Mission, we talk a lot about the laws of the harvest.
1. We reap what we sow.
Actions have consequences. When we make good choices, we eventually reap benefits. We encourage our men as they begin sowing good seeds – like working hard to improve their education, overcome addictions, sharpen their job skills, create a budget, invest in family relationships & build good friendships.
2. We reap later than we sow.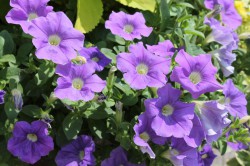 When we sow good seeds, we don't always enjoy the benefits right away. It takes time for seeds to grow. It may take a while before a job search blossoms into a good job. It can seem like a lifetime before a family member responds to a man's letters and reaches out to their son, their husband, their father. But time and again, change happens. Flowers blossom. Beauty unfolds at the Mission. The Lord blesses perseverance.
3. We reap more than we sow.
Small seeds have a way of yielding large harvests. The consequences that ripple out from individual choices are great and diverse. Choosing to faithfully follow God in the small things often results in big blessings. We see this happening time and time again.
Sharing the Joy
When you support the Mission, you are helping to nurture growth in the lives of homeless men. A financial donation, a kind word, a tutoring session, a job lead, a prayer – all the ways in which you give to the Mission, you help water tender young plants as they grow and blossom. The resulting beauty blesses moms and dads, sons and daughters, churches, neighbors, coworkers and friends.
And as with Arthur's flowers and his very life, the beauty of a restored life is a delight to all who have the pleasure of passing by.