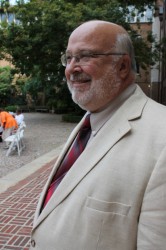 Your gift today keeps us going strong tomorrow!
Dear Friend,
Your kind and faithful support this past year has been used by God to make all of these good things happen. I personally take great comfort and joy in knowing that while I may be on the front lines of this ministry of helping the homeless, yet there is a vast army of supporters such as you who are praying for us, volunteering at the Mission, sending money to us, donating good used items for our thrift stores, and buying for our men much needed items on our current needs list. Out of the thousands of other ministries and nonprofits that you could support, we are honored and humbled that you have chosen to support us.It is hard to believe that September 30th will soon mark the end of our current fiscal year and October 1st will mark the beginning of our new fiscal year. I want to thank you for your kind and generous support this past year. It has been a challenging year with what seemed like the snowstorm of the week back in the winter months, with the sad news that a family foundation that generously supported us with an annual gift since the 1990's was ceasing operations at the end of 2013, with a growing number of our men arriving at the Mission with serious health problems that have been neglected far too long, with the Philadelphia job market still being very stingy with good jobs for our men, and with our men battling overwhelming feelings of hopelessness and despair. But the Lord is able, and in spite of these challenges, the Mission has weathered the snowstorms, our "daily bread" has been provided (sometimes at the last minute!), our men have received life-giving medical treatment, a good number of our men have obtained decent jobs, and many of our men have testified that the Lord is their hope and that God's grace has been more than sufficient even on the darkest of days.
As we come to the end of our fiscal year on September 30, 2014, please consider sending an extra generous gift that will enable us to finish our fiscal year in good shape and will also help us to start our new fiscal year on October 1st on a strong financial footing.
Thank you for your friendship and support.
Warmly,

Robert A. Emberger, D.Min.
Executive Director