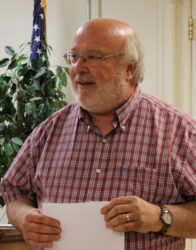 Dear Friend of the Mission,
It is amazing how time flies!  On Monday, February 19, 2018, I celebrated my 29th anniversary of working at the Whosoever Gospel Mission.  During my tenure at the Mission, we have had the privilege of ministering to thousands of homeless men.  It is always a joy to be traveling around the city and have either a former resident honk their horn at me as they drive by, run up to the Mission's van when I am stopped at a red light, or walk up to me on the street to say hi.  One of our graduates is a city sanitation worker and used to pick up my trash each week.  One of my most amazing encounters took place years ago in New York City at Christmas time.  One of our graduates, Richard, operated a watch kiosk on the streets of New York City; he was fully licensed as a street vendor by the city of New York.  My family and I were up in New York to see the play, A Christmas Carol, and were making our way to a food court to get lunch before the play.  Manhattan is always crowded, but at Christmas it is impossibly crowded.  As we were standing on a street corner ready to cross the street after the light turned green, I heard a voice calling out, "Rev. Bob."  And there was Richard, our graduate from the Mission, selling his watches from a kiosk.  God definitely made that meeting happen.  In a city of millions at Christmastime, the chances of Richard and I running into each other is almost impossible.  We had a nice visit, albeit brief, before we went on to see our play.  Just a side note, Richard today is retired and living in California with his wife.  He keeps in touch with us via email and every now and then sends a check our way to help keep the Mission going.
Probably the most eventful thing in my 29 plus years at the Mission is the catastrophic arson fire we suffered on February 25, 2006.  We were shut down for almost three years, and when we re-opened everything was brand new and in perfect condition.  Today, 12 years later, things are starting to break down and wear out – sadly at the same time!  Right now we have over $27,000 in equipment/building replacement and repairs including a new lobby tile floor, a new fire alarm monitoring panel, emergency repairs to our phone system and the need to replace it with a new system (we actually discovered our phone panel smoking with melted plastic – we really don't want another fire!), and pump repairs to our heating system and water booster pumps.  We need your help at this time to keep the Mission going as a safe, warm, pleasant, efficient and comfortable place for our men.  Our ministry to homeless men is much more than bricks and mortar, but a good facility helps to make our ministry even more effective.  Thanks so much!
With warm regards,

Robert A. Emberger, D.Min.
Executive Director