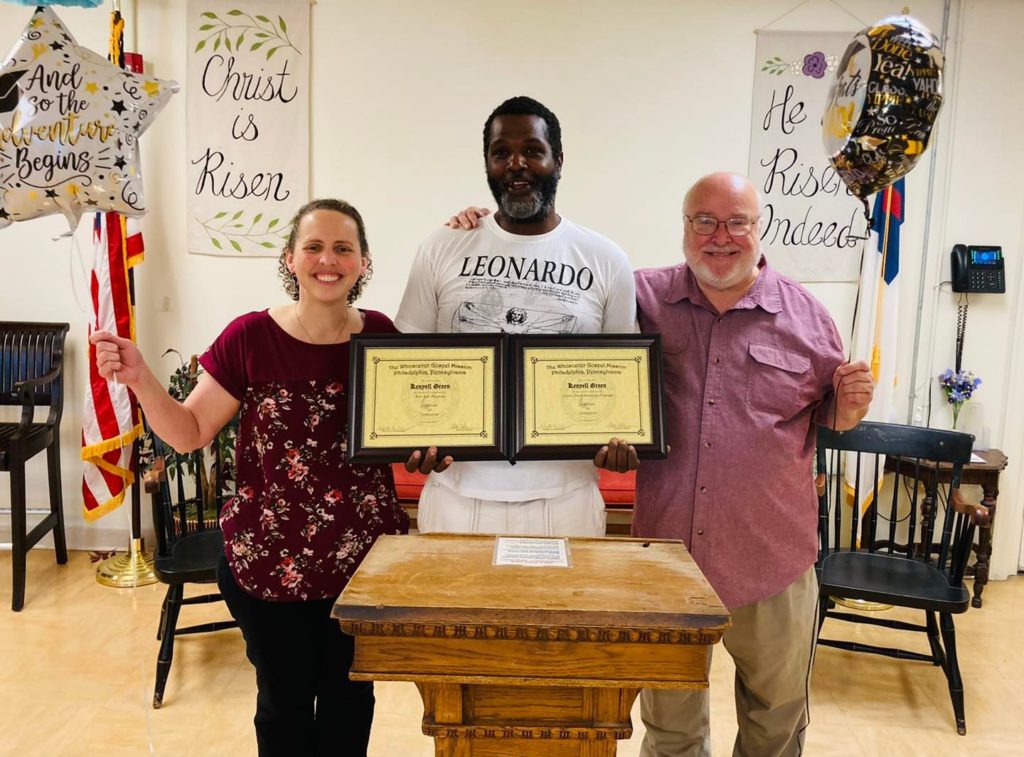 Dear Friends,
Greetings from Germantown where the Lord continues to do great things! Sometimes those things are big and loud. Other times they're quiet and subtle. But we rejoice in them all. We celebrated with two New Life Program graduates who just moved into their own places this past month. Another gentleman was invited to his 7-year-old daughter's kindergarten graduation. He made her a card and a ticket for one free movie outing with dad (which she redeemed that very afternoon!). They had a lovely daddy/daughter date. There's much to celebrate.
The Lord has also been working in the heavier, harder things. Two of our residents recently lost loved ones. Another man received a tough medical diagnosis. Each of these men has stayed through the trial thus far. They are plugging into community and reaching out for help rather than running away to hide or relying on old habits to numb the pain. We rejoice in this good work of God, too, even while we grieve, pray, love, and hope.
And then there are the men who just keep plugging away through the ordinary obstacles of life. They're choosing to keep on doing one right thing after another and trusting God to bless and provide. Will is one such gentleman. He recently shared a bit of his story. You can read it here. I think you'll enjoy it (especially if you like Tastykakes). I certainly do.
My late dad was a Tastykake guy for most of his career. One evening, when I was little, we were all sitting around the dinner table after dad got home from work. When we had finished, he said "Hey Heather, I have something for you in my jacket pocket." I excitedly ran to the next room and fished in his pocket for what I was sure would be a banana creamie, my favorite Tastykake at the time (they don't make them anymore!). Instead, it was a digital Cabbage Patch Kid watch with a purple leather band that he picked up from a guy on his route. I declared "A Cabbage Patch Kid watch! That was my next guess!" After my parents finished laughing, my dad said "No it wasn't! You didn't even know such a thing existed until now!" He had a point.
When I saw that watch, I realized it's what I would have wanted, if only I knew it existed. Often, it's the same way here at the Mission. Men come looking for one thing – help overcoming an addiction, getting a job, or a place to stay. But then they encounter the love of Jesus and realize that God wants to give them so much more – peace, joy, forgiveness, hope, and a good future. Thanks for your part in helping men find not only what they came for, but so much more.
Grace and peace,

Heather L. Rice, D.Min.
Executive Director