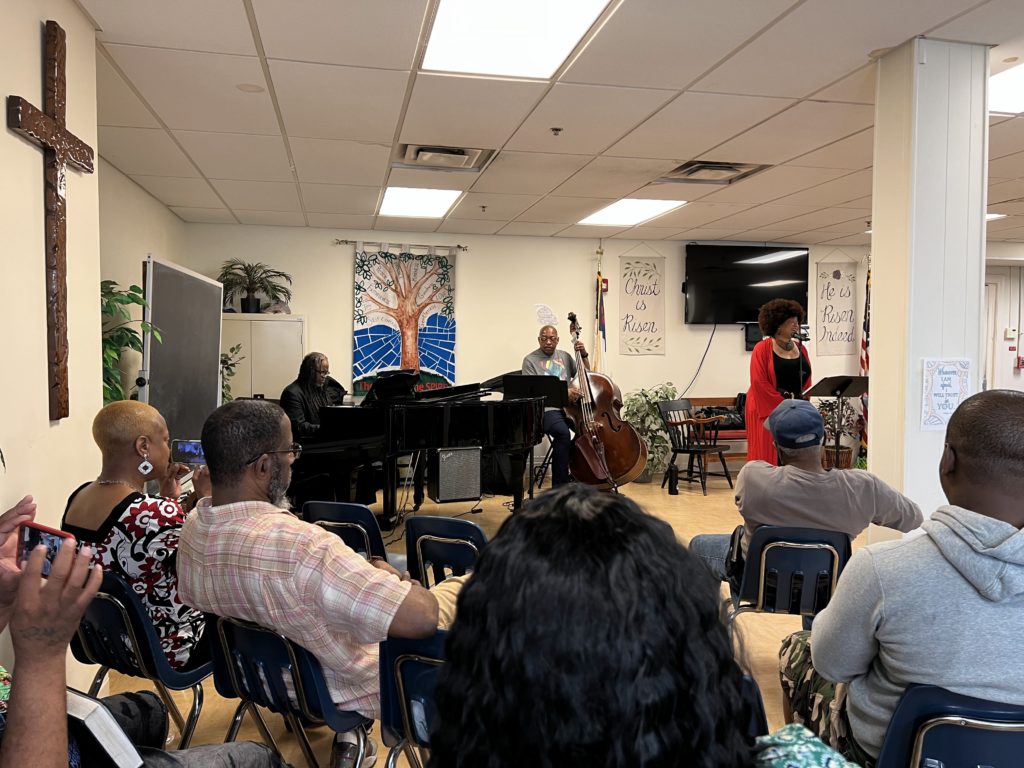 Dear friends,
Blessings to you! I hope you are finding some rest and renewal in the somewhat slower rhythms of summer. Here at the Mission, all of our classes and activities continue full-speed ahead. Just last week one of our residents, Kevin, took and passed two of the five HiSET exams needed to get his high school equivalency diploma. Others are working earnestly towards theirs. Eleven of our residents are currently employed and working on budgets to save up and move into their own place, while another eight men are currently seeking employment.
In the midst of all of the normal hustle and bustle of Mission life, we had the joy of pressing the pause button and setting apart Monday, June 19th this year for our first all-Mission Juneteenth celebration. We closed the thrift store and cancelled all classes and regular work, and we met together for a special program followed by a catered BBQ lunch from Sweet Lucy's and a time of recreation and relaxation. Check out the next page for photos of the festivities.
For the program, Composer-Vocalist Ruth Naomi Floyd, along with Aaron Graves on piano and Lee W. Smith on double bass, shared a concert with historical and theological commentary about Juneteenth – the day in 1865 on which Union troops freed enslaved African Americans in Texas two months after the end of the Civil War (and 2½ years after President Lincoln signed the Emancipation Proclamation). Juneteenth has been celebrated as a holiday in Texas since the 1860s, and was made an official holiday of the State of Texas in 1980. But the story of Juneteenth has only recently made its way to some of us. As I'm sure you're aware, it's now a national holiday.
During this special concert, we were led on a journey through holy lament and defiant joy, considering what it means to reach for beauty in the midst of suffering. We looked at the real hope and joy that we find in Jesus, our Savior who knows what it is to suffer, because He suffered too. But suffering doesn't get the final word. That's why we celebrate! The concert ended with Ruth Naomi Floyd inviting us all to sing "O Happy Day" with her. The music was phenomenal – all three musicians are recording artists in their own right. As one gentleman shared afterwards, "you folks could have gone ANYWHERE today, but you're here with us. Thank you." Another resident who's going through some heavy suffering of his own told me the next morning, "Yesterday, that was amazing. And last night, there was a peace that settled around here. You could feel it."
I want to take this moment to pause and thank you for your part in making all of these things possible. Thank you for investing in the lives of our men, offering a hand-up to brothers in need, encouraging them to reach for beauty in the midst of hard things.
Grace and peace,

Heather L. Rice, D.Min.
Executive Director