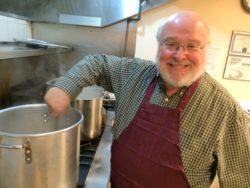 Dear Friend of the Mission,
Every day at the Mission is a day of giving thanks.  As we come to Thanksgiving Day, here are a few things from a long list of many that I am giving thanks for during this holiday season:
Three men recently graduated from our New Life Program on Tuesday night, November 1st – Rusty, Lee and Roger. All three are now working fulltime, they are drug and alcohol free, and they are living in their own place they can call home.  All three have also made a commitment to the Lord and are seeking to honor God in and through their lives.
Thirteen of our men are working outside of the Mission, two of our men are attending Philabundance Community Kitchen training for a job in the food service industry, and thirteen of our men have successfully completed the initial 12-week Foundations Phase of our New Life Program and are now on the Career's Phase actively looking for work. These are all great milestones and achievements in the lives of our men.   Each one of these men arrived at the Mission, homeless, destitute, hungry, addicted and unemployed.  The differences that God is making in their lives are truly night and day.
One of our men in particular is working long, hard hours to provide a home for his wife and daughter. They too are homeless, and this gentleman is being a responsible father and husband to make enough money to provide a home where all three of them can be reunited.
Thanksgiving Day will be soon be here, and as in other years, we will have our amazing Thanksgiving Day Feast filled with all sorts of delicious food – roast turkey, giblet gravy, sage stuffing, buttered corn, green bean casserole, candied yams, mashed potatoes, macaroni and cheese, cranberry sauce, garden salad, dinner rolls, apple cider, and all sorts of delicious desserts.  We anticipate over 100 people will attend our annual Thanksgiving Day Feast.
Please let me thank you in advance for your kind and generous support that keeps the Mission going as a place where hungry souls are satisfied, where the hurting are healed, where broken men are made whole, and where God's grace is big enough for everyone and anyone.
Thanking the Lord for you,
Robert A. Emberger, D.Min.
Executive Director