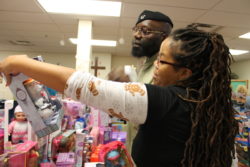 When someone struggles with unemployment, an addiction, or other issues that can end up leading to homelessness, family relationships suffer. Many of the men here at the Mission working hard to overcome these and other barriers to successful, productive, independent living desire to rebuild and strengthen those relationships – especially with their children.
Because of the generosity of  countless donors, this Christmas residents and graduates of the New Life Program lovingly selected and wrapped approximately 1,550 gifts for 227 of their children. The gifts are from the men – not the Mission. Each toy purchased and donated to the Mission is a gift to a dad  – it's the gift of being a dad, of having the joy of giving a present to his child.
It's also a gift to a kid – the gift of a dad – a dad with whom to play catchphrase or Candy Land or to throw that football.
Thank you, all who gave! Here are a few photos of the festivities: