Posted 3/1/23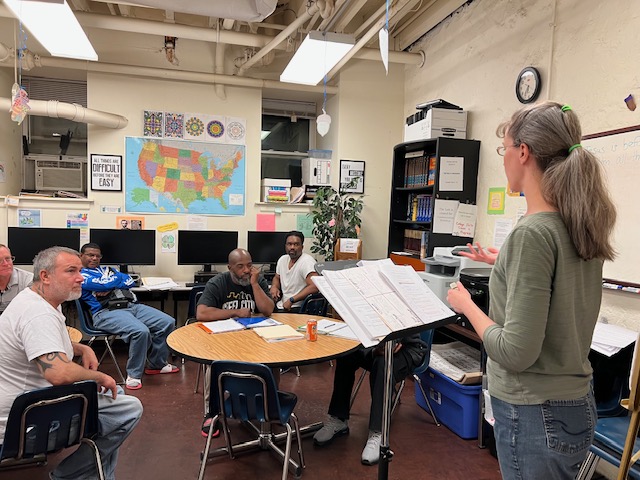 Organizational Background:
The Whosoever Gospel Mission has provided Christ-centered rehabilitation and job readiness services to disadvantaged men experiencing homelessness since 1892. For 131 years, the Mission has introduced broken and hurting men to the loving grace of our Lord Jesus Christ, discipled them toward maturity in Christ, provided for their basic needs, and equipped them with the skills and resources they need to achieve a fulfilling life, restored relationships with their family, a lifestyle of recovery from addiction, improved physical and mental health, a good job, a place of their own they can call home, and long-term success as productive, contributing members of our community. We do Gospel Show and Tell – we tell men about the love of Jesus and we show men the love of Jesus through our mercy ministry. All of our services are provided for free. The Mission is a member of the Evangelical Council for Financial Accountability and the Citygate Network, an association of 300 rescue missions in the United States and Canada.
Position Title:
Adult Basic Education Instructor
Reports to:
The Robert A. Emberger Center for Career Development Program Director
Purpose:
The Robert A. Emberger Center for Career Development is designed to help our men improve their adult basic education skills, obtain their GED, and achieve full-time meaningful employment.
Weekly Schedule:
Time in
Time out
Total Hours
Monday
8:45 AM
4:15 PM
7:30:00
Tuesday
1:00 PM
9:30 PM
8:30:00
Wednesday
1:00 PM
9:30 PM
8:30:00
Thursday
8:45 AM
4:15 PM
7:30:00
Friday
8:45 AM
4:45 PM
8:00:00
Total for week:
40:00:00
Schedule Highlights:
Mondays, Thursdays and Fridays, the fulltime ABE Instructor begins the work day by joining our staff devotions at 8:45 AM in the chapel. We begin the work day with fellowship, Scripture reading, and prayer.
Tuesday and Wednesday evenings, the fulltime ABE Instructor is responsible for teaching various basic math and communications classes, and supervising the computer lab.
Tuesday, he/she would teach two sessions of the same communications class in the evening – these run concurrently with our two Overcomers D&A meetings. You would teach your class to different men during the Overcomers Meetings. Men who miss your class for the first Overcomers session would then attend your class during the second Overcomers session. Communications Class emphasizes creative thinking and expressing one's thoughts in words. This class involves doing research, giving oral presentations, language arts, and writing in different genres.
Wednesday he/she would teach basic math courses (Math Foundations and Math Processes) in the evening.
During his/her daytime hours Monday – Friday, he/she would focus on individual tutoring with men who score below a 7th grade level in reading, writing or math, or men who are working towards their GED. He/she would also use this time to assist men using the lab computers, and grade assignments and plan lessons for classes.
Once a month, he/she would come early (at 8:00 AM) on a Friday morning to join the Learning Program Director in giving out our monthly and quarterly Learning Program awards. This is always a fun chapel. All teachers are present and participate in the chapel.
The job is self-contained and requires very little preparation work at home. The Mission's New Life Program is an open entry-open exit program – residents come and go throughout the year and stay for varying lengths of time. Our Career Track Learning Program's academic year is divided into four 13-week quarters in which all tutoring and classes are canceled during the 13th week of each quarter. The 13th week provides a break for both students and staff and also provides an opportunity for staff to review, evaluate and revise the courses.
Job Description:
The Mission offers a safe environment for both male and female employees alike. Just a side note, the majority of our teachers over the years have been women.
Design and implement curriculum (i.e., teach classes) for Adult Basic Education (ABE)
Maintain accurate quarterly grades for class sizes ranging from 3 to 15 students
Tutor students in subjects ranging from basic literacy to GED prep
Supervise computer lab and assist residents with computer-based activities
Assist residents in Vocational Discovery – i.e., helping our men to identify their gifts, abilities, transferrable skills and to compile the work and educational data needed to develop a job-winning resume
Assist residents in creating resumes and completing online applications
Advise, supervise and support volunteer tutors
Help students build stronger organizational and time management skills
Participate in monthly and quarterly awards chapels
Other relevant tasks as needed (we all wear many hats)
Qualifications and Requirements:
A committed Christian who is an active member in good standing of a Bible believing church.
Willing and able to supply professional and character references.
At least a 4-year college degree; a teaching degree would be a plus.
An effective communicator – both oral and written skills.
Preferably some experience in adult basic education.
A Christ-centered, compassionate concern to equip homeless men with the knowledge, skills and resources they need to become productive citizens in both God's Kingdom and our society.
A person who is comfortable ministering in an urban environment (you can't be afraid of the city and look upon working in the city as a dangerous undertaking – it really isn't).
A resourceful, flexible, conscientious, easy-going, and creative person.
Good computer skills – able to help others use a computer including accessing the internet.
Salary and Benefits:
The Mission offers a competitive salary, fully paid health insurance for employee, Christmas bonus, three weeks paid vacation, paid sick time, paid holidays, pension plan, discounts on items in Thrift Store, free meals, in-house staff training, opportunity to do Kingdom work in an enjoyable, collegial work environment.
IF INTERESTED, PLEASE SEND YOUR RESUME TO: Executive Director, Dr. Heather Rice, hrice@whosoevergospel.org, and copy remberger@whosoevergospel.org