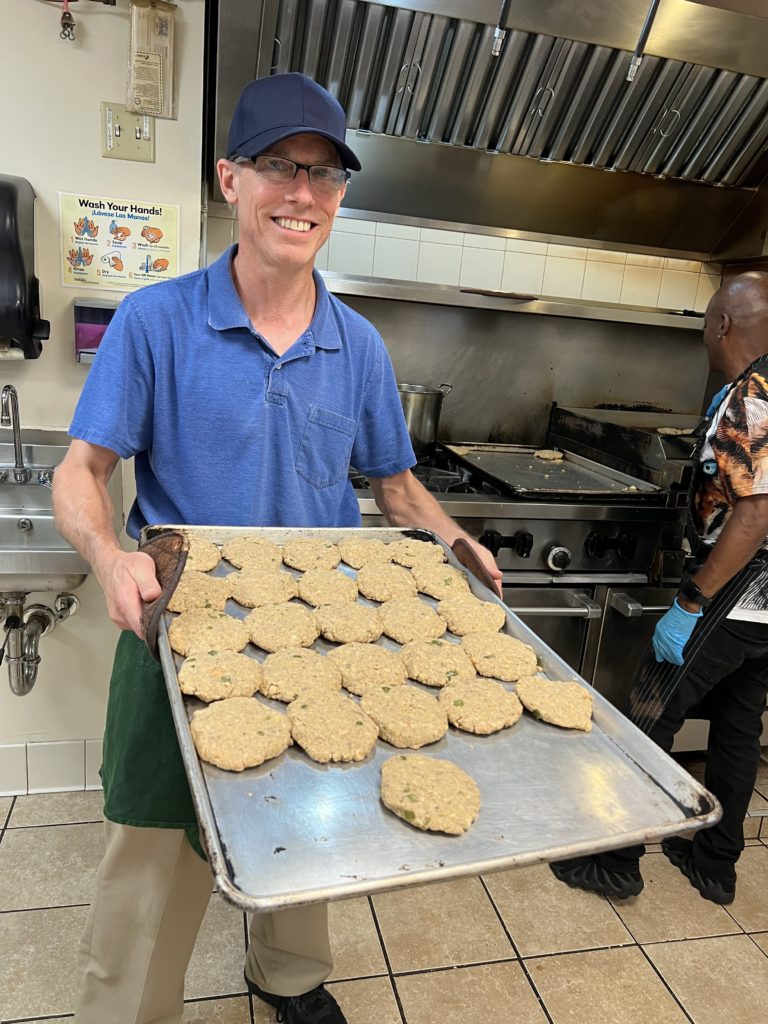 Position Open: Immediately as of 9/8/23
Organizational Background: The Whosoever Gospel Mission has provided Christ-centered rehabilitation and job readiness services to men experiencing homelessness since 1892. For 131 years, the Mission has introduced broken and hurting men to the loving grace of our Lord Jesus Christ, discipled them toward maturity in Christ, provided for their basic needs, and equipped them with the skills and resources they need to achieve a fulfilling life, restored relationships with their family, a lifestyle of recovery from addiction, improved physical and mental health, a good job, a place of their own they can call home, and long-term success as productive, contributing members of our community. We do "Gospel Show and Tell" – we tell men about the love of Jesus and we show men the love of Jesus through our mercy ministry. All of our services are provided for free. The Mission is a member of the Evangelical Council for Financial Accountability and the Citygate Network, an association of 300 rescue missions in the United States and Canada.
Position Title: Hospitality and Food Service Assistant
Reports To: Food Service Manager
Hours of Work: Full time, 40 hours/week, alternating between WEEK 1 and WEEK 2 as listed below (includes 30-minute paid lunch breaks)
WEEK 1
Time in
Time out
Total Hours
Monday
Tuesday
8:45 AM
6:00 PM
9:15:00
Wednesday
9:15 AM
5:45 PM
8:30:00
Thursday
8:45 AM
6:00 PM
9:15:00
Friday
8:45 AM
6:00 PM
9:15:00
Saturday
Sunday
3:00 PM
6:45 PM
3:45:00
Total for week:
40:00:00
WEEK 2
Time in
Time out
Total Hours
Monday
Tuesday
8:45 AM
6:00 PM
9:15:00
Wednesday
9:15 AM
5:45 PM
8:30:00
Thursday
Friday
8:45 AM
6:00 PM
9:15:00
Saturday
8:45 AM
6:00 PM
9:15:00
Sunday
3:00 PM
6:45 PM
3:45:00
Total for week:
40:00:00
Total hours every 2 weeks:
80:00:00
General description: We are looking for someone to assist the Food Service Manager in overseeing our food service operations for our 55 residents, to help create a clean, safe, and welcoming environment for our residents both in food service and in our dorms, and to ensure that our guests, donors and volunteers feel welcome and have what they need to serve our men well.
Job Responsibilities:
Assist Food Service Manager in supervising the kitchen crew.
Assist Food Service Manager in ensuring that the Mission's food service operations run smoothly.
Ensure anyone working in the kitchen follows proper food safety protocols at all times.
Prepare and cook meals as needed.
Personally receive food donations from donors – thanking them and getting a name and address of the donor to turn in to the front office.
Help process food donations determining if they will be used in-house by the Mission, sent to the Germantown store to be given away for free, or disposed of as trash.
Dispose of food items that are out of date or have gone bad. As much as possible grind up soft perishable items in the garbage disposal and throw away canned goods and harder items in the regular trash.
Help maintain the Mission's food pantries (main pantry in dining room, kitchen pantry and other food storage areas) – checking expiration dates, organizing food items, keeping it clean, addressing any rodent problems, & placing new non-perishable food items on pantry shelves.
Assist Food Service Manager in maintaining necessary food and food service supplies inventory.
Welcome and supervise visiting churches in their meal preparation for our residents.
Pull needed food and non-food items from stock.
Prepare cubicles and rooms for new guests (cleaning, sanitizing, outfitting, taking inventory of required furniture – assessing condition and need for replacement, ensuring mattress covers in good condition, etc.).
Conducting cleaning inspections of the kitchen and the general dormitory facilities.
Necessary Skills:
Pays close attention to detail
Well organized
Has a friendly, outgoing and pleasant demeanor
Ability to supervise teams
Ability to work independently
Other Requirements:
A ServeSafe Certificate is required. The Mission will pay the fees to obtain this certificate. The certificate will need to be obtained within three months of hire.
Has a personal relationship with the Lord Jesus Christ and is an active member of a Bible-believing local church. Has a heart of compassion for the poor, the homeless and those struggling with addictions. Has as a willing spirit, is flexible, and desires to do ministry. Character and professional references required.
Other Details:
This is an hourly position for 40 hours per week with possible overtime at 1.5 times the regular rate of pay. This person will be off every Monday and alternates being off Thursday and Saturday every other week for a second day off. It includes working Sunday afternoons from 3pm – 6:45 pm.
This person will be off Thanksgiving Day
This person will be required to work overtime on Christmas Day from 11:00 AM – 2:00 PM at double-time pay.
When the Food Service Manager is off on a Saturday that he is schedule to work, we will ask this person, if at all possible, to work from 9:15 AM – 5:15 PM (8 hours) at 1.5 times their hourly wage.
Salary and Benefits
Competitive salary to be discussed with fully paid health insurance, paid holidays, paid sick leave and paid vacation, thrift store discounts, company-matched pension plan, warm and enjoyable Christian work environment
If interested, please email resume and cover letter to Executive Director Heather Rice at hrice@whosoevergospel.org and copy Director of Advancement Bob Emberger at remberger@whosoevergospel.org