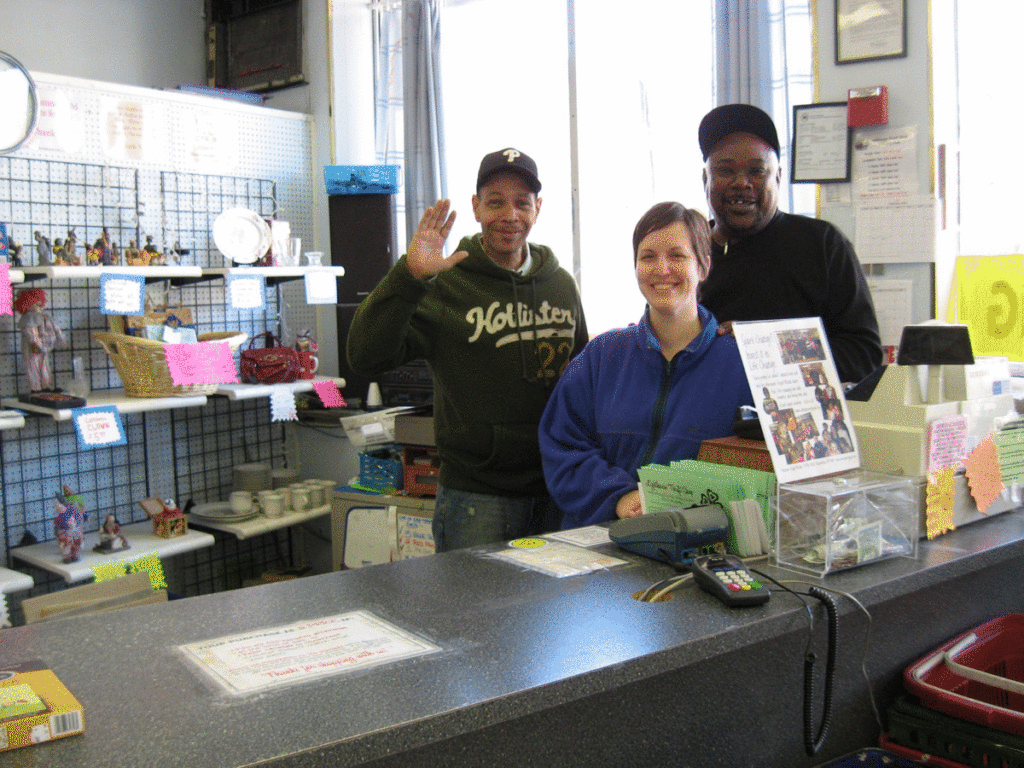 General Description
The Whosoever Gospel Mission is a Christian ministry that serves men experiencing homelessness through its 55-bed residential New Life Program in the Germantown neighborhood of Philadelphia. The Mission operates two thrift shops (its flagship Germantown Thrift Store and our Lighthouse Thrift Shop in the Lawndale section of Philadelphia) to generate income for the New Life Program and to provide hands-on job readiness training and work experience for New Life Program participants.
The Thrift Shop Associate job opportunity is a part-time or full-time (40 hours per week), summer seasonal or permanent hourly ministry position in which the team member will work under the supervision of a store manager to carry out the following responsibilities at both our Germantown and Lawndale Thrift Store locations:
Greet customers and donors with a warm and welcoming attitude.
Operate a cash register while adhering to standard anti-theft policies and procedures as trained.
Receive and process donations of clothing, housewares and other miscellaneous merchandise, issue donation receipts, and thank donors for their support.
Stock, clean, and organize the sales floor as assigned by the manager.
Train and supervise men enrolled in the New Life Program who are assigned a workforce development training responsibility in the store. At times you will be responsible to train and coach New Life Program participants on how to receive and process donations, how to restock the store, and how to assist our store customers. You will also coach our program participants in basic job readiness skills like punctuality, collaborative teamwork, following instructions, etc.
Work Schedule – Both part-time and full-time positions are available
Full-time
Each thrift shop associate works 5 days per week and is off every Sunday. Their other day off will generally be the same day each week, Monday to Friday (except for one week per month, when the associate works 5 days from Monday to Friday and is off on Saturday). This way, each thrift shop associate has one Saturday off every month.
Hours: 8:45 AM to 4:45 PM with a 30 minute paid lunch (each day begins at 8:45 AM with a paid time of staff devotions together with all employees)
Part-time – one to three days per week
Thrift Shop Associate Requirements
Professional appearance and behavior
Ability to maintain a positive attitude and focus on customer satisfaction in a fast-paced environment
A desire and commitment to help New Life Program participants enjoy a good life and become all that God wants them to be
The ability to read, write, and perform basic math
The ability to stand and walk for extended periods of time
A teachable, pleasant and flexible spirit
Additional Requirements for Working at the Whosoever Gospel Mission
Because the Whosoever Gospel Mission is a Christian organization, we require that each staff member enjoys a personal relationship with the Lord Jesus Christ and endeavors to live a committed Christian life. In addition, we expect our staff members to regularly attend church. Each staff member needs to be a good and godly example to our New Life Program participants and to our extended Mission family of supporters.
Salary: $15.00/hour
Benefits (if permanent full-time employee)
Health insurance after 60 days – the Mission pays the full premium
2 weeks paid vacation time per year (1st week available after 6 months, then accrues biweekly)
40 hours paid sick time per year
Pension plan – SIMPLE IRA (company matched up to 3% of your salary)
9 paid holidays per year
Your birthday off as a personal holiday (you can take it on a day other than your birthday)
Christmas bonus (if we have the resources)
20% Thrift Shop Discount (10% on specialty items)
Annual staff appreciation dinner
Free meals at the Mission, free surplus bread and other food that the Mission cannot use
Access to our computer lab
An enjoyable work environment
Work Locations (as assigned on a weekly basis)
Germantown Thrift Store
101 E. Chelten Ave.
Philadelphia, PA 19144
Lighthouse Thrift Shop
6515 Rising Sun Ave.
Philadelphia, PA 19111

How to Apply
Please email your resume or a letter telling us about yourself and your work history, introducing yourself to the Whosoever Gospel Mission's Executive Director Dr. Heather Rice at hrice@whosoevergospel.org (please also copy Dr. Bob Emberger at remberger@whosoevergospel.org on your email). Thanks!