New Life Program for Men
The Mission offers its residential New Life Rehabilitation & Job Readiness Program to homeless men without charge.  The New Life Program is comprised of three phases: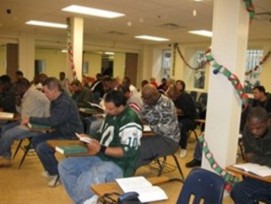 Phase One – Foundations. In the Foundations Phase, men receive or participate in the following free of charge: food, shelter and clothing; individual and group counseling; drug and alcohol support groups, testing and treatment; job readiness training through a productive work program; daily teaching, seminars and workshops; development of social skills, self discipline and personal responsibility; and our Career Track Learning Program designed to improve necessary educational, life, vocational and job readiness skills.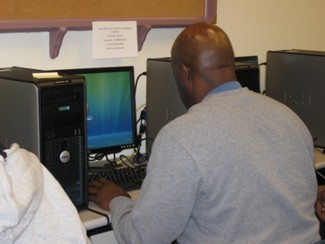 Phase Two – Careers. In the Careers Phase, men continue to receive food, clothing and shelter free of charge while attending off-site vocational training, pursuing employment, and for 3 months after securing full-time employment.  In addition, students in the Careers Phase receive vocational counseling, assistance with resume preparation, and help with community resource networking to obtain needed services.  The Mission provides funds for public transportation while in school and job hunting, and continues to provide ongoing counseling and support services.  Upon completion of this phase, men receive a graduation certificate at a ceremony in their honor.
Phase Three – Aftercare. Upon graduation from the residential Foundations and Careers Phases, men move out of the Mission and into their own independent living arrangement.  In the Aftercare Phase, men continue to receive counseling, advice and referrals provided by a full-time Aftercare Counselor as long as necessary.  Graduate benefits also include a thrift store discount, free meals and free use of the Mission's Learning Center resources.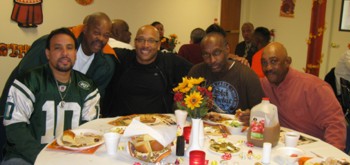 For more information on the New Life Program, please call (215) 438-3094 and press option 1 or email hrice@whosoevergospel.org.
The Lighthouse Thrift Shop and Germantown Thrift Shop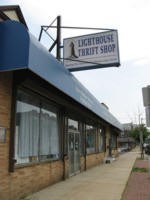 We continue to operate our Lighthouse Thrift Shop five days a week (Tuesday to Saturday, 9:45 am to 4:30 pm) at 6515 Rising Sun Avenue in the Lawndale section of Philadelphia, and our Germantown Thrift Shop six days a week (Monday to Saturday, 9:45 am – 4:30pm) at 101 E. Chelten Avenue in the Germantown section of Philadelphia.  All proceeds from the Lighthouse and Germantown Thrift Shops go directly to supporting the Mission.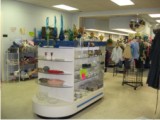 In addition, we give away free clothing to needy individuals and families, and we offer a variety of clothing, furniture and household items at very reasonable prices to families struggling to make ends meet.  Come on by for a great bargain and to check out our monthly specials!
Aftercare Counseling
Rev. Joe McAvinney, the Mission's Aftercare Counselor, provides on-going biblically-based, practical and hope-filled counseling to graduates and former residents of the Whosoever Gospel Mission.  For Joe's hours, call him at (215) 438-3094, ext. 112
Youth Making a Difference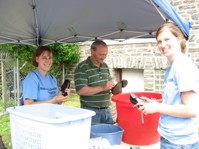 We continue to provide service learning opportunities to church, youth and school groups at our Lighthouse Thrift Shop and Germantown facilities.  We work with over 1,500 young people a year.
Teaching, Preaching and Music Ministry
Mission staff routinely teach, preach, provide training and minister in music at various local churches, schools and groups.  To schedule an engagement for your local church or group, please call Bob Emberger, our Director of Advancement, at (215) 438-3094, ext. 102.
Other Ministries
We routinely assist individuals with placement in other residential programs, we have partnered with local urban churches to distribute donated food to needy families, and we continue to assist our program graduates and former residents with resume preparation, references, job search issues, resource referrals and other helps as needed.